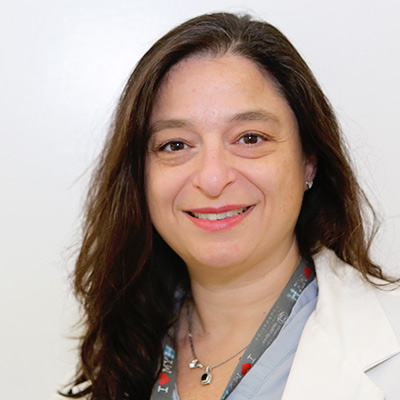 Phone: (416) 746-1905
Fax: (416) 746-9437
715-115 Humber College Blvd
Etobicoke, ON,
M9V 0A9
Dr. Roberta Minna
Dr. Roberta Minna graduated with honours from the University of Toronto biochemistry program. She went on to study medicine and graduated from the University of Toronto in 1994. She completed her residency in general surgery in 1999 through the University of Toronto. She spent one year in a community fellowship in Toronto. She has been on staff at the William Osler Health System since 2000.
She practices a complete array of general surgery but has an interest in Breast Cancer, Laparoscopic GI Cancer, and endoscopy.  Dr Minna and her staff are fluent in English and Italian.
Dr. Minna has been involved in the governance of the hospital and is committed to delivering excellent quality healthcare to the community. She held the position of Site Chief of Surgery since 2013. And in June 2017 was appointed to the position of Interim Corporate Chief of Surgery.  She is also very involved with the Osler foundation as one of the Doc Stars.  She previously was the Medical Director of the Ontario Colonoscopy Clinics.
In her free time, she enjoys spending time with her two daughters. She and her husband are avid curlers and travellers.  Originally from Brantford, Ontario, she has called Toronto home since 1992.